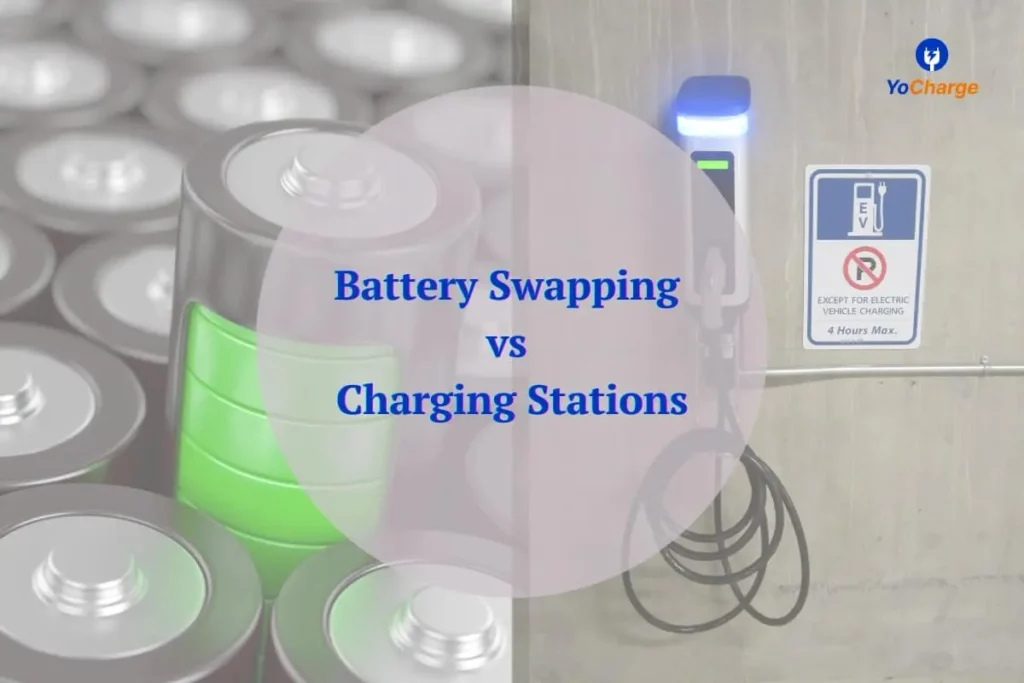 Battery Swapping vs Charging Station: Globally people are making a massive shift from combustion vehicles to electric vehicles. Now looking at the global change, we have to decide which is better- battery swapping vs charging stations. The government is working hard to make people aware of electric vehicles. It is setting lofty targets and making organisations or people invest in technology. Organisations are working hard and coming up with reasoning behind this inevitable shift. 
Statistics indicate that battery-powered vehicles are in huge demand, but still, a few challenges like how to transmit power to these vehicles persist. The government is working hard by providing incentives to attract netizens to adopt electric vehicles. After the subsidy period ends, will swapping be the most convenient option to charge vehicles for EV users? Let's find out!!
Are Indian consumers ready to adopt Swapping?
Plug-in electric vehicles charge slowly and can charge one vehicle at a time. Now looking at the global change, we have to decide which is better- battery swapping vs charging station.
Even after quick charging technology, an EV user has to wait at least half an hour to 45 mins. Despite efforts to make it a smooth transition, there are hurdles. Setting up a charging station requires a large investment (necessary equipment + land). This process involves the redesign of the station's layout.
On the contrary, replacing batteries appears more convenient. Companies like Tata and Shell intend to increase the number of charging stations nationwide. Also, many EV solution provider companies like YoCharge are helping develop EV infrastructure around the country and investing in the subject. The US and Europe are early adopters of this trending technology, but battery replacement has not yet achieved general acceptability. Nio, a Chinese electric vehicle manufacturer, has already established over 700 battery swap stations in China. 
However, in India, two and three-wheeler EVs are gaining popularity rapidly over four-wheelers, which is why swapping makes less sense. When the battery's weight reduces to 10 gm, and the extended range is to 80-100km, battery swapping vs charging station makes sense and is a win-win situation for all parties.
Moreover, the cost of implementing a battery swap system for a four-wheeler and bigger commercial vehicles will strikingly increase, and the viability of battery swapping will reduce for large three-wheeler vehicles. The reason behind the whole process is the battery packs used in such vehicles are heavier and may demand the use of robots and automation to achieve success. So what do you think which one will work best – battery swapping vs charging station.
It is crucial to understand that batteries account for around 40 per cent of the entire costs of an electric vehicle. Long-term shifting can help OEMs reduce the component cost for both consumers and themselves. Battery manufacturing for electric vehicles that costs 1 lakh can cost manufacturers Rs 40,000.
Battery swapping allows the driver to continue driving without worrying about battery power. They can utilise their vehicle without concern for battery life and enjoy the perks of new technology. The closed-loop management system can reuse energy and solar applications with centralised governance. Sounds interesting!!
Battery swapping vs Charging station – comparison
EV charging stations provide plug-in vehicles with a facility to charge. It also helps EVs to power up with the charger provided by the EV manufacturers. However, some EV manufacturers try to provide fast charging options, but still, it takes 1-2 hours to charge an EV.
Although focusing on battery swapping technology, the manufacturers will need to reduce the price of E-vehicles in order to make these vehicles more affordable. Swapping the batteries would ensure long battery life as it restricts unprofessional hands, and under/overcharging of batteries will never happen.
Moreover, both technologies face major challenges in their functioning. First, EV charging stations require heavy investment (land + equipment). Although the manufacturer can add the EV charging station option to the existing station, still it is essential to change the entire layout.
When the cost is considered, battery swapping is more convenient, and people can travel throughout the day without worrying about battery life. They can plan long road trips without facing the problem of the power range. Moreover, with the development of technology, there is a chance of revolution and growth in the used batteries.
Problem with data sharing and standardisation
Though battery swapping appears to be the most practical option, standardisation is inevitable. The fame II program is based on the concept of fixed batteries. Therefore, expanding and making it more flexible in terms of swapping policy is necessary.
The ISO standards for battery changing s also under development process. As we all know, every business and product is unique so is the batteries. It is difficult to convince manufacturers to establish a single standard for the development of batteries.
There is a constant struggle for control; however, brands and OEMs use battery technology to distinguish themselves from competitors. The competition will be determined by price if all EVs have the same range and battery capacity.
Wouldn't OEMs and brands lose a substantial amount of their competitive edge? Worldwide, corporations are working hard to build consortiums to standardise EV battery production, but no such consortiums are established in India. With decreasing battery capacity, the user may experience decreasing mileage and no promise that the fully charged battery placed in the car will last longer or run longer than the previous battery. 
Battery swapping vs Charging stations- what will prevail?
Battery-as-a-service business model may range from monthly to yearly to daily subscriptions and also represent an opportunity for EV entrepreneurs regarding battery changing. It is unclear whether brands and OEMs would coordinate and work on the same sort of batteries to complement the forthcoming battery swapping strategy.
Now with fast changes in technology, you can locate EVs everywhere. Government, private institutes and businesses are all building an EV-ready infrastructure for the upcoming surge in EV vehicles. The EV fast charging stations can now charge EVs by 80 per cent within 15-20 mins. Fast charging has also substantially reduced concerns regarding battery compatibility, and now the complete BMS or battery manufacturer are not required to be synchronised.
The government of India is working really hard to promote both fast charging and battery swapping by bringing a battery swapping policy and making the market to determine which prevails most and best. As long as we accelerate the EV shift, we are winning in this battle of EV transition.