Delhi is one of the fastest green technology adopting state. The government has also provided certain measures to boost the shift towards electric vehicles in the nation capital. The availability of charging stations is one of the prime factors that makes people inhibit EVs. But to ease the charging facility 85 electric vehicle charging stations were installed in Delhi.
85 electric vehicle charging stations installed in Delhi
According to a statement from the MCD, the Indian government is promoting the usage of electric vehicles and has set a goal of 25% EV adoption by 2030. Several state governments, are working to accelerate the adoption of electric vehicles in their respective territories. The Delhi Municipal Corporation claimed that it has been taking the required actions to develop the best electric vehicle environment possible in the city. The national capital's electric vehicle sector will be boosted by initiatives launched by the Delhi government.
Recently 85 electric vehicle charging stations have been installed in Delhi by the Municipal Corporation of Delhi. Currently these charging stations are available for public usage. By December, at least 92 more facilities would be built, according to MCD officials who spoke to PTI.
Due to concerns about air pollution, Delhi has been boosting the adoption of electric vehicles. By 2024, the Delhi government plans to install one charging station for every fifteen electric vehicles. The city's EV charging stations will be located evenly throughout and will all be within a 3-kilometer drive from one another. Incentives will also be given to battery swapping operators.
Delhi govt launches open database for EV Chargers, Battery-Swapping Stations

Read Ahead
The MCD approved the installation and use of EV charging stations by four central government public sector undertakings (PSUs), Tata Power Delhi Distribution Limited (TPDDL), Energy Efficiency Services Limited (EESL), Broadcast Engineering Consultants India Limited (BECIL), Indraprastha Gas Limited (IGL), and DISCOMS Tata Power Delhi Distribution Limited (TPDDL), BSES, and Yamuna Power Limited (BYPL). To determine the potential of installing and operating EV charging stations, parking spaces and roadside locations were provided to these organizations.
Delhi Skill and Entrepreneurship University developing a diploma to train students as EV mechanics
In March of this year, the national capital raised its percentage of EV sales to 12.5%. The Delhi government has also given attention that as part of its initiatives to promote the creation of "green jobs," there is a plan to train mechanics for electric vehicles. The Delhi Skill and Entrepreneurship University is developing a program to prepare students in its automotive engineering diploma program to work as EV mechanics.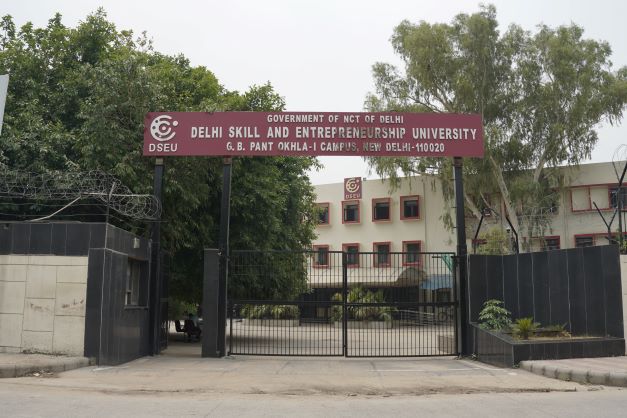 Every year, 100 students will receive basic and advanced training in EV mechanics through this program. A memorandum of understanding (MoU) was signed by Hero Electric Vehicles, World Resources Institute India, and the DSEU. The automobile industry will assist the Delhi Skill University in creating the course materials and giving students hands-on training.