According to the latest reports, India has sold over 4.3 lakh EVs this year. The talk of the town is that the sales will reach a record high of 6 lakh electric vehicles by March of 2023. This EV sales surge is why housing societies should invest in EV charging stations. Electric cars have taken over the Indian automobile industry by storm. The rise in the number of people adopting EVs is because it is environmentally sustainable and partly because the cost of charging is reasonable compared to petrol and diesel.
Reasons for Housing Societies to Invest in EV Charging Stations:
As the number of electric vehicles adoption is growing, India is counting on the EV industry to curtail its expenses on the fuel import bill. In addition, our country is also promoting EVs to cut short on GHG emissions and protect the environment. The government of India is now gaining support from the real estate developers and residential complexes in the country in endorsing the EV industry and supplying the necessary infrastructure to the concerned people.
EV sales are surging in the metropolitan cities of Delhi, Mumbai, Bangalore and Chennai, which belong to the apartment and gated communities. However, EV owners are in the minority compared to ICE vehicle owners living in housing societies. The popularity of electric vehicles has created awareness in the minds of the housing and apartment society owners and building secretaries that they will have to invest in EV stations for their tenants.
The Surge in EV Adoption by Indians:
Since the rising prices of oil, petrol and diesel have been burning holes in our pockets, people are finding it practical and conventional to switch to electric vehicles for transport. It helps cut GHG emissions short, enabling us to sustain our environment for extended periods.
India sold over 4.3 lakh EVs by the 9th of December, 2022. According to the reports released in October, India has hit a peak in EV sales of more than one lakh units. Tata Motors has sold more than 36,000 electric cars with an expectancy to beat the record of 50,000 electric four-wheelers by the end of 2022.
Similarly, Tata Tiago also catapults the sales record by receiving more than 20,000 bookings within the first few weeks of its launch. Let's not forget OLA electric's sale of two-wheelers. The reports released in Dec 2022 spoke about how the sales had boosted in the three previous months, and an estimated 90,000 Plus units have been sold to date.
Benefits of Installing EV Charging Stations in Housing Societies:
Feasible Rates:
Unlike public EV charging stations, your investment in residential charging stations would be more affordable. You and other residents can agree to split the cost and pay a one-time fee to install charging stations in your gated community or housing society. This way, you can access unlimited energy through them (charging stations) and won't need to use public charging stations as often.
Easy Accessibility:
Accessing the charging station installed in your housing society would be easier to access as long as the number of EV drivers in the complex is low. You will able able to charge your EV anytime you want. Also, Since it is advisable to use slow AC chargers for the longevity of the electric vehicle, it would be easier and stress-free to leave your electric vehicle for charging overnight rather than spending hours and paying more in a public space.
Safer Environment to Charge in:
There are multiple reasons why charging your EV in your housing society rather than in public spaces. For starters, though DC charging stations are faster to charge, they also reduce the longevity of the EV's battery life. You wouldn't have to worry about somebody stealing your EV as it would remain under the surveillance of the gated community or housing society's security guards. It would be simpler to charge your electric vehicle, provided they supply you with the correct charging equipment and assistance.
Increases value of the community
Having EV charging stations installed in societies increases the tax benefits, attracts tenants who own EVs, sends a message that they are environmentally conscious and adds to the list of amenities.
Government Based Advantages: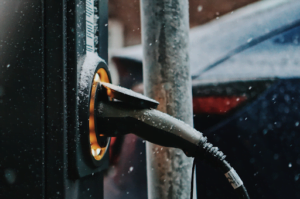 The Indian Central and State governments have introduced various subsidies and incentives to promote EV charging station installation across the country. The policies belonging to each state are written keeping in mind the resources they have and will need.
In some regions of the country, the government will subsidise a fixed percentage based on the total cost invested in installing EV charging stations. In some states, the state government would refund about 25% of capital based on fixed capital or EV charging equipment that costs up to Rs 10 lakhs for the first commercial charging stations.
Besides such subsidies, The government has also announced the installation of EV charging stations as a de-licensed activity. This de-licensing means that anybody can set up a charging station, including those belonging to the Group Housing communities. As long as the technical and performance standards, protocols, norms and specifications set by the Ministry of Power and Central Electricity Authority are met, you do not have to worry about the process of installing the EV charging stations.
Who Can Help You Set up an EV Charging Station?
We at YoCharge can help you! Our company is steadily gaining popularity for our smooth and prompt services. Our team of experts will take care of all the documentation required for government approval, design a blueprint plan and calculate the costs depending on the charging equipment required. We also install the hardware and software(EV Charging Management Software and White Label CMS).
In Conclusion of, the Housing Society's Investment in EV Charging Stations:
The EV revolution is creating significant transformations in our country. It will benefit the Group Housing communities to take advantage of the government-released subsidies and install the EV charging stations before the government puts an end to them. Also, housing owners can utilise this opportunity by including the charging costs in their tenants' rents. Having charging stations installed also attracts a lot of attention from EV owners who want to shift into an apartment with the EV charging service.