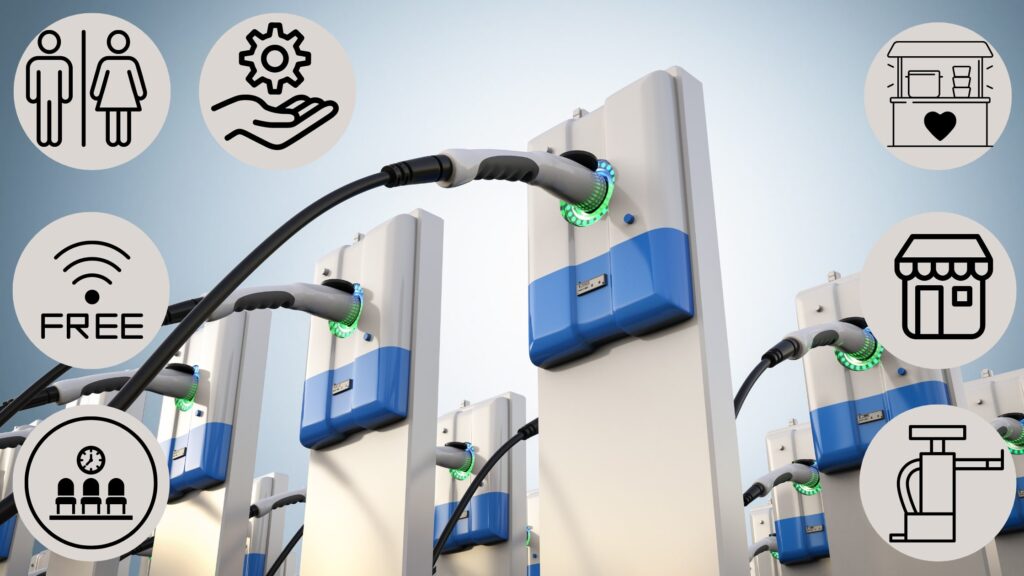 The demand for charging stations is rising as electric cars (EVs) continue to gain popularity. While the main purpose of EV charging stations is to provide a location to charge an EV, there are many extra amenities that can make the charging process more comfortable and engaging for your customers. This can also also increase the customers who visit your EV charging station. So let us discuss if your EV charging station have these amenities:
Basic amenities that should be included in an EV charging station
1. Restroom
A restroom is one of the most fundamental amenities that should be offered at an EV charging station. EV owners could also need to use the restroom while their cars are charging. Make sure the restrooms are properly cleaned and maintained. Many drivers may select a charging station based on the availability of restrooms alone.
EV charging stations are often situated in areas where restrooms may not be readily available, such as rural or highway locations. Offering well-maintained and clean restrooms on-site can provide EV drivers a chance to take a break and refresh themselves during their journey. Moreover, access to restrooms can be particularly beneficial for drivers charging their vehicles for an extended time, particularly when traveling with elderly passengers or children.
2. Lounge area
Lounge areas are beneficial for EV charging stations since they provide drivers with a comfortable place to wait and relax while their cars charge. Depending on the type of charger used, charging an EV can take anywhere from 30 minutes to several hours, thus having a comfortable place to wait can be a key selling factor for an EV charging station. These lounge areas may be furnished with a range of amenities, including Wi-Fi, workstations, comfortable seating, clean bathrooms, and even food and beverage services.
A well-equipped lounge can also be a significant source of revenue for a charging station from a commercial standpoint. Consumers are more likely to select a charging station with a lounge over one without, which can boost traffic and sales at the charging station. In airports and other busy places, lounge facilities can be handy for drivers of ride-sharing services as a pleasant place to wait between fares.
3. Food stalls
A food service option in your EV charging station can be a huge benefit for EV owners who might need to grab a quick snack or drink while they wait for their vehicle to charge. In actuality, research have revealed that at least 70% of EV charging station users would be interested in having a short bite to eat as they wait for their car to charge. A charging station might draw more customers and boost sales by providing food and drinks.
Depending on the type and size of the charging station, there may be a variety of food service options. Vending machines filled with snacks and drinks can be a nice solution for smaller stations. A coffee shop or a small restaurant is much more desirable for a larger EV charging station. A food service will undoubtedly be helpful in drawing more clients if your EV charging station is situated in a busy neighborhood or traffic area.
4. Maintenance services
EVs generally require minimal maintenance, but it can be beneficial for charging stations to provide some essential maintenance services. By setting up a small workshop, charging stations can provide quick and emergency services, including windshield wiper replacement, brake replacement, tire rotation, wheel alignment, and car wash services. This can serve as an excellent way to draw more customers to the charging station.
In addition, the provision of maintenance services at an EV charging station can aid in cultivating customer loyalty. By extending a variety of services beyond just charging, EV owners are inclined to consider the charging station as a one-stop solution for their vehicle requirements and may be more inclined to revisit the station in the future. The inclusion of maintenance services at a charging station may also inspire owners to purchase an EV, being aware that they can conveniently access the necessary services to maintain their EV in proper condition.
5. Air filler for tires
For EV drivers, a tire air station can be a helpful amenity. Drivers can utilize this service to fill up their tires when necessary because the majority of charging stations are situated near highways. It's a simple but useful amenity that can assist EV drivers in avoiding any potential problems while on the road.
6. Free Wi-Fi
Wi-Fi is an indispensable amenity nowadays. Providing a reliable and robust Wi-Fi network is an effective method for attracting customers who wish to remain productive while they wait. With complimentary Wi-Fi, EV owners have the opportunity to work, surf the web, or watch their preferred programs as they charge their vehicles.
7. Small stores
Having shops in EV charging stations can be a beneficial amenity for EV drivers who require quick and convenient access to essential items while waiting for their vehicle to charge. Depending on the location of the charging station, shops can offer a variety of products including snacks, drinks, groceries, and other essentials.
With a shop available on the charging station premises, EV drivers can effortlessly buy any necessary items without leaving the area or wasting time looking for a nearby store. This feature can be especially advantageous for drivers on long trips and needs any essentials.