The future of electric vehicle charging holds tremendous potential as the world transitions toward sustainable transportation. With the growing demand for EVs in India, it is equally crucial to develop solutions that can meet the evolving needs of the EV charging sector. According to a report published by precedenceresearch.com, the global EV charging station market size was worth USD 46.54 billion in 2022 and is forecasted to reach USD 417.35 billion by 2030 at a CAGR of 31.5% (projected period from 2022 to 2030). In this blog post, we will delve into the future of EV charging and explore the pivotal role that EV Charging Software plays in shaping this landscape.
Future of EV Charging
The evolution of EV charging technology will always need efficient and scalable charging infrastructure. The EV charging future holds several vital aspects that are essential to support the widespread adoption of EVs:
1. Rapid Expansion of Charging Infrastructure:
The future of electric vehicle charging involves a vast network of easily accessible and strategically located charging stations. Meeting this vision requires innovative solutions to address infrastructure challenges, such as effective site selection, streamlined permitting processes, and seamless grid integration. Spherical Insights & Consulting published a report on globenewswire.com; the Global EV Charging Infrastructure Market Size was worth USD 23.74 billion in 2022 and is expected to surpass USD 286.91 billion by 2032 at a CAGR of 28.3%.
2. Enhanced Charging Speed and Efficiency:
With technological advancements, EV charging speed will increase significantly in the future. Faster charging capabilities, along with improved energy efficiency, will reduce charging time and enhance the overall convenience of EV ownership. Level 3 or DC fast chargers may become common and compatible with all-electric vehicles. Global Market Insights recently published a report on DC Fast chargers, asserting that Asia Pacific is one of the fastest-growing EV Charging markets and is estimated to grow at 29.6% CAGR.
3. Integration with Renewable Energy Sources:
The future of electric vehicle charging is closely tied to renewable energy integration. By optimizing solar and wind power, EV charging can become more sustainable. In that process, the future dependency on fossil fuels will also reduce. This integration will benefit not only the environment but also the economy. As more renewable energy sources will further develop, the cost of electricity will decrease, making EV charging more affordable for consumers. Furthermore, the use of renewable energy will create new job opportunities in the green energy sector.
4. Intelligent Charging Infrastructure:
As EVs become more prevalent, intelligent charging infrastructure will play a crucial role in optimizing energy distribution, managing peak loads, and enabling demand response. The future of EV charging requires advanced software solutions to facilitate seamless communication between charging stations, vehicles, and the grid.
Role of YoCharge EV Charging Management Software (EVCMS)
YoCharge EV Charging Management Software is currently gaining popularity for its cutting-edge technology and innovative features. It is expected to play a significant role in shaping the charging infrastructure. Here's how YoCharge is paving the way for the future: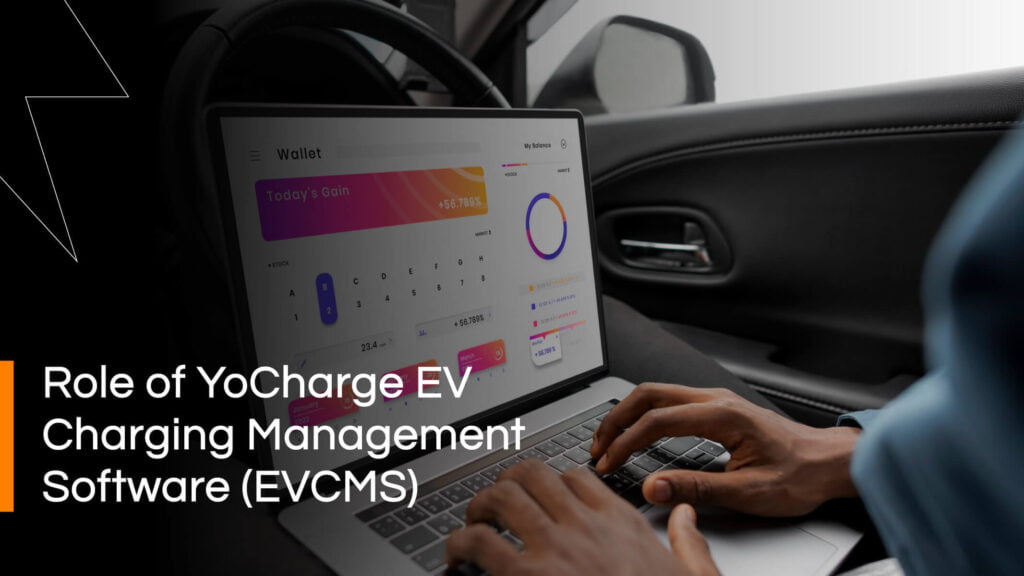 1. Scalability and Flexibility:
The EV charging software offers a scalable platform that can seamlessly handle a network of charging stations, ensuring efficient management and optimal utilization of resources. The platform is designed to be flexible and adaptable, so it can be easily scaled to meet the needs of any size network. It also features a variety of tools and features that can help operators to manage their network effectively, such as:
2. Real-time & Remote monitoring :
EV Charging Platforms provide real-time monitoring of all charging stations through a central
management system, so operators can quickly identify and address any problems wherever they are.
3. Charging management:
Charge point operators (CPO) can manage charging sessions, prioritize charging and set charging limits for different users depending upon the peak and off-peak hours. They can also monitor and manage special discounts and offers, or during the redemption of loyalty points.
4. Billing and payment:
The EV Charging software is integrable with payment processors to allow users to pay for charging sessions. Our software offers multiple payment options, making charging a convenient process. We also have a Scan, Pay & Charge option that is processable through a unique QR Code that directs users to the payment gateways. The benefit of this feature is that it requires no application to be downloaded to utilize the process.
5. Reporting & Analytics:
Data collected from real-time monitoring provides detailed reports on charging usage. Therefore, the charge point operators can track the performance of their network and make informed decisions about future investments.
6. Dynamic Load Management:
The boom in the EV industry demands a supply of EV charging, so managing the load on the grid becomes crucial. YoCharge's charging software integrates advanced load management algorithms to optimize energy distribution, prevent overloads, and minimize operational costs.
7. Interoperability and Roaming:
The EV charging future majorly relies on seamless interoperability between charging networks. Our EV charging software facilitates easy roaming by integrating with various charging protocols and networks, ensuring a hassle-free charging experience for EV users across different locations.
8. Smart Grid Integration:
Our software enables intelligent energy management, demand response, and grid balancing, ensuring a harmonious interaction between EV charging infrastructure and the electrical grid. Smart energy management helps reduce peak demand, improve grid reliability, and save money for both EV owners and utility companies.
9. Predictive Analytics and Machine Learning:
YoCharge EVCMS optimizes predictive analytics and machine learning algorithms to gain valuable insights into charging patterns, user behavior, and demand forecasting. This enables charge point operators (CPOs) to make data-driven decisions, optimize resource allocation, and provide personalized services to EV users.
10. Enhanced User Experience:
YoCharge prioritizes the user experience by offering features such as mobile app integration, real-time charging status updates, and personalized charging profiles. This ensures convenience, ease of use, and customer satisfaction, driving the future adoption of EV charging services.
The Future Benefits of YoCharge EV Charging Software
YoCharge EV Charging Software offers numerous benefits that align with the future needs of EV charging infrastructure:
1. Scalable Infrastructure Growth
As the EV charging future involves a significant expansion of infrastructure, the YoCharge charging platform enables charging network operators to scale up seamlessly. It provides centralized management tools to monitor, control, and maintain charging stations, facilitating efficient growth and effective resource management.
2. Grid-Friendly Charging:
Our software ensures grid-friendly charging practices to support the integration of more EVs into the grid. It minimizes grid stress and optimizes energy utilization by leveraging load management algorithms and intelligent energy distribution. The future of smart grid integration is bright, as the demand for EVs is will grow in the coming years. This growth will require more intelligent energy management solutions to ensure the grid can handle the increased demand.
3. Future-Proof Compatibility:
Our EV charging software is functional to adapt to the evolving EV charging standards and technologies. It ensures compatibility with emerging protocols, enabling seamless integration with future charging infrastructure advancements.
YoCharge EV Charging Software Services
Yocharge currently provides two different EV charging software services- White label EV Charging Software and YoCharge Community Software.
In the white label EV charging software, we design your charging software and customize its features according to your business requirements and under your brand name. Opting for this service is the best option, as your EV Charging Software will be launched within seven days.
Also, the white-label EVCMS saves you a lot of cost and time, as developing a whole new software takes months and burns holes in the pockets. The white-label EV charging software services are open to the global market.
In the YoCharge Community EVCMS, anybody owning an EV charger and living in a place with many footfalls can become a charge point operator. The charging station's location will display on the EV charging mobile app under YoCharge's brand name. This service is open to people living all over India.
Conclusion:
There is great potential for the EV Charging Software industry as India is one of the most rapidly growing EV Infrastructure markets in the Asia Pacific after China. YoCharge EV charging software can offer many benefits, like improved efficiency, better customer experience, and reasonable costs for businesses looking to become CPOs. If you want to start your own EV Charging business or need EV Charging software to replace your current one, you can connect with us.
Benefits of Using EV Charging Management Software

Related Blog