Be part of the EV Ecosystem, Host your Charging Station on YoCharge EV Charging Platform
Zero Onboarding Charges | Zero Monthly Subscription Charges | Zero Hassle
EV Charging Community Platform
EV Charging Community Platform Features
YoCharge, EV Charging Community Platform, provides end-to-end solutions for the management of Charging Stations, including operations, security, accounting & billing on the basis of a monthly subscription fee or commission. The Charging Station Management Platform can onboard both AC & DC Charging Stations and provide Charging Services to 2-wheelers, 3-wheelers, Cars, Buses & other Electric Vehicles.
End to End Solution
End to End Solution from selection of Charging Stations, Installation, Commissioning, Operation & Maintenance for life.
Accounting
Automated accounting & payment settlement directly into your account
OEM Independent
On-Board Chargers of any make & provide charging to all types of electric vehicles
Security
Data Security, Privacy & Secured Operations.
Real-Time
Manage Charging Station, See data on real-time basis
Renewable Power
Integration with renewable power sources like solar & wind.(1)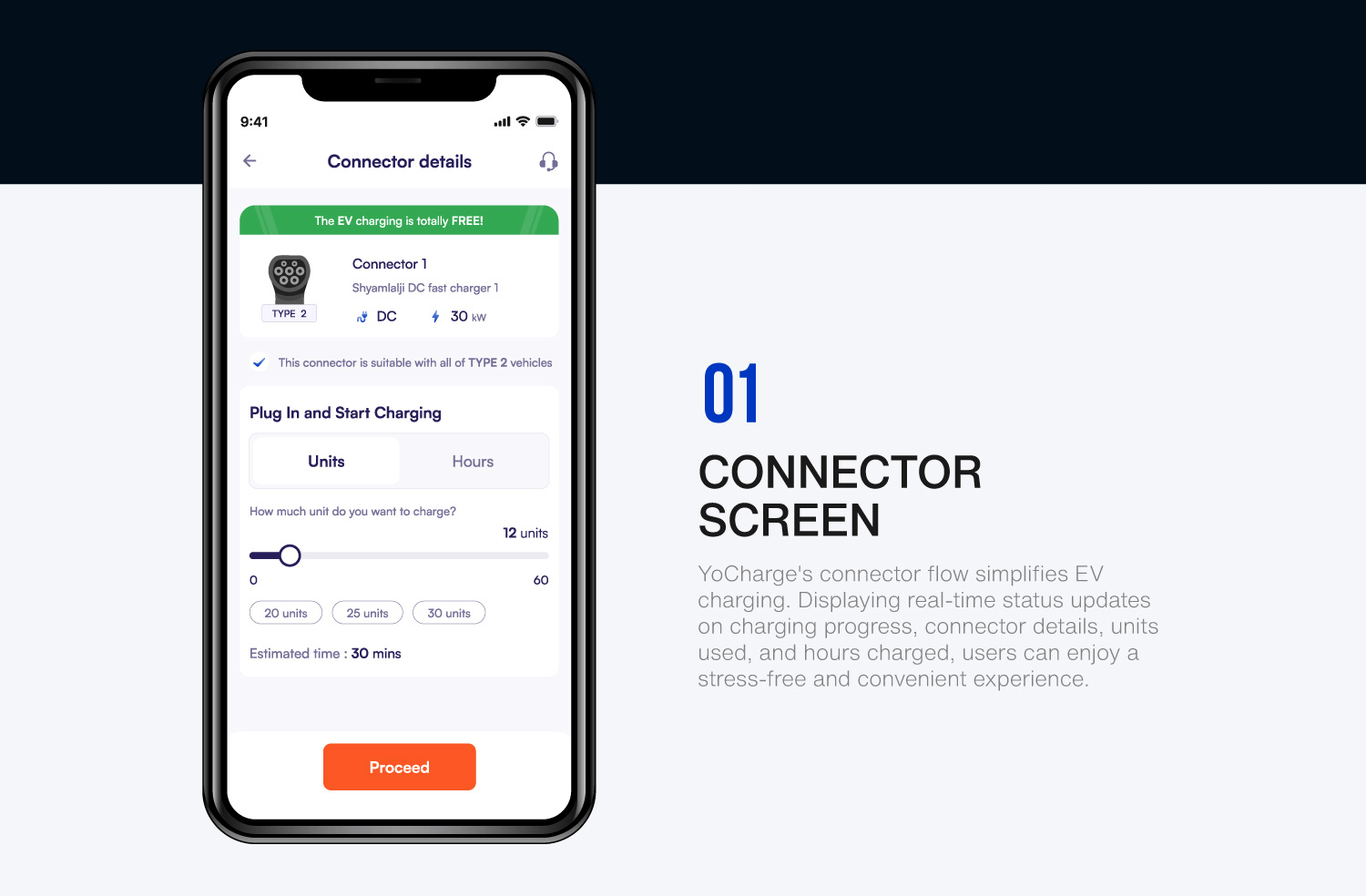 Let YoCharge Work For You
YoCharge provides Intelligent EV Charging Station Management Technology Platform to help monetise your EV Charging Infrastructure in a simple manner. With the support of our Software Platform, you can set up your own charging network without any software development hassle.
Our EV Charging Station Management Software as a Service (CMS-SaaS) is based on the simple preposition that you focus on growing the business, we focus on development of technology & operations. This approach allows us to specialise in development, optimise the operations cost and enables to provide better charging experience to EV Users at lower costs.
Charging Stations on YoCharge Community EV Charging Platform
Get in Touch:
If you have launched or planning to host an EV Charging Station, please fill the form below and our expert will guide you with the process ahead.
FAQ'S – EV Charging Platform
1. What is EV Charging Software CMS?
The electric vehicle charging management software helps EV charging service providers to manage all the aspects of charging and optimize EV charging network operations seamlessly. The CMS also delivers an exceptional charging experience to its users and monetizes their business by generating extra revenue.
2. Whom does EV charging management software provide a solution?
An EV charging management software provides an end-to-end solution to
– EV charging operations
– EV charging billing
– Energy management
– EV driver management
– EV fleet management
– Interoperability and integration within EV business
3. How does our charging management software work?
Yocharge provides hassle-free solutions to electric vehicle charging businesses, whether through applications for drivers or the management platform for operators. The main focus is on management systems through technology by building a seamless EV charging software platform for easy installation and maintenance of the electric station. Our charging management platform can onboard both AC & DC charging stations and provide charging services to 2-wheelers. 3-wheelers, cars, Buses and fleet.
4. How does community CMS help businesses?
EV charging station management software powered by YoCharge provides an end-to-end solution for charging station management which includes operations, security, accounting and billing on the basis of a monthly subscription fee or commission. To become a smart EV user and part of the EV ecosystem, host your charging station on the YoCharge platform. Enjoy zero onboarding charges, zero subscription charges and zero hassle.
5. What are the benefits of the YoCharge EV charging community platform?
Yocharge CMS enables EV charging station owners or businesses to configure their charging network without the need of software development.
– Zero onboarding charges
– Zero subscription fees
– Zero hassle
6. What are the Benefits of EV Charging Software – Community CMS
The software optimizes the charging process for EVs, ensures safety and reliability, provides billing and payment options and helps ​​control all your EV infrastructure from one central hub. YoCharge's EV charging station management software typically integrates with charging stations and can perform various functions such as:
– Our charging station software comes with all OCPP features and profiles
– Support mobile app with white labelling option available
– Smart Integrated payment solution with flexible tariff management
– Setting and enforcing charging policies, such as maximum charging power or charging time limits
– Providing information on charging station availability, energy consumption, and cost
– Allowing EV users to initiate, monitor, and control their charging sessions remotely through a mobile app or web portal
– Integrating with billing and payment systems to allow EV users to pay for their charging sessions

7. How Does EV Charging Management Software Help Businesses?
Electric Vehicle (EV) charging management software power up businesses by providing a centralized platform for managing their EV charging infrastructure. The software allows businesses to optimize their charging operations and make better use of their charging assets, leading to increased efficiency and cost savings.
– Monitoring and control: The software allows businesses to monitor the usage and status of their charging stations in real time, giving them complete control over the charging process. They can start, stop, and manage charging sessions, set charging schedules and view usage statistics.
– Billing and payment: The software can be integrated with billing and payment systems, allowing businesses to manage charging fees and track revenue. Customers can be charged based on the amount of energy used or the time spent charging.
– Load balancing: The software can help businesses ensure that their charging stations are used efficiently and effectively by balancing the charging load between multiple stations. This helps prevent the overloading of the electrical grid and reduces energy costs.
– Energy management: The software can be integrated with building energy management systems, allowing businesses to monitor and control their energy consumption and costs. This can help them reduce their carbon footprint and improve their sustainability efforts.
– Customer engagement: The software for EV charging stations can provide a user-friendly interface for customers, allowing them to view available charging stations, start and stop charging sessions, and view their charging history. This can improve customer satisfaction and drive repeat business.