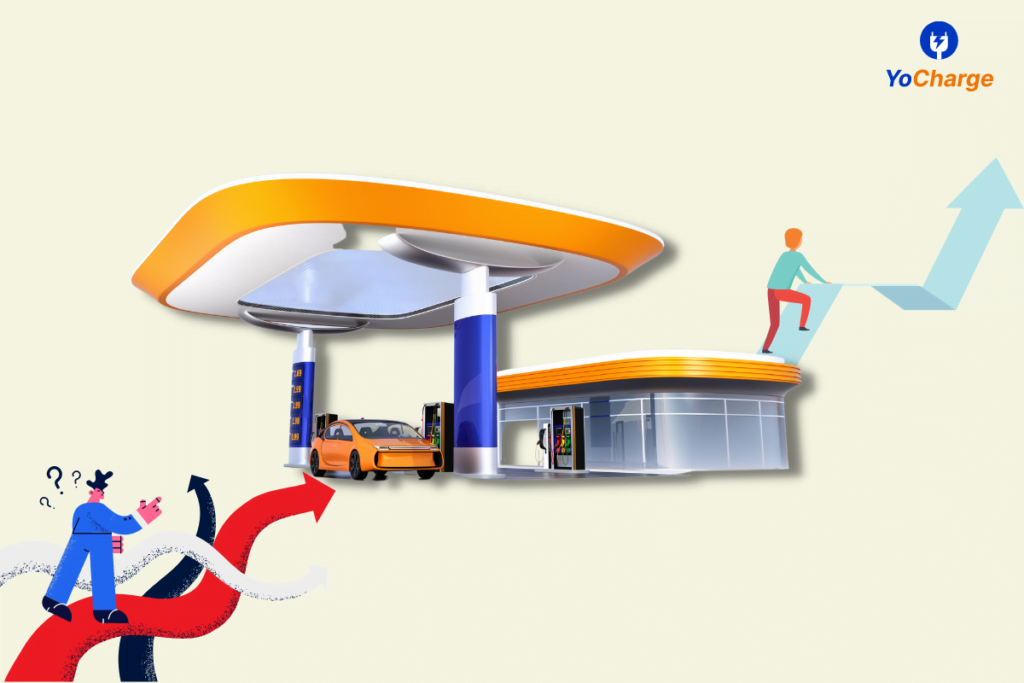 New research according to Bloomberg New Energy Finance shows that it is expected that electric vehicle will make up the majority of new electric car sales worldwide by 2040, and out of all, 33% is light-duty vehicles on the road. Thus looking at this new research, we can say electric vehicle charging station is a good business opportunity. Automaker worldwide are speeding up their efforts to develop EVs mainly because of high demand from China, the country known as the world's most prominent EV supporter.
The rising EV market is a double-edged sword – It will jeopardize the fuel marketing business. Let's see how we can make a profit in this emerging market. There are several ways to earn from electric car charging stations. The few main are taking charge directly from customers, increasing footfall and expanding business area, and looking for outside companies to subsidize the cost of the chargers in exchange for branding on the EV charging stations. There are several possibilities; once you start exploring, you will get the answer to your question. "Are EV charging stations profitable?" 
Establishing a Charging infrastructure is a gateway to new customers and higher revenues. Below we will discuss how incorporating electric vehicle charging into your business model can take your existing business to new heights. 
Business opportunities in the EV ecosystem – EV charging station business
Escalating business opportunities with EV chargers
Today people are facing range anxiety and convenience of charging as one of the major issues in the EV world. Looking at market condition, we can analyze it demands companies to develop more innovative methods and retain customers. One of the simplest ways to achieve it is by turning your location into a public EV charging station. When an electric car owner stops to charge, there is a huge opportunity to sell products. Charging stations encourage EV owners to spend more time, ultimately resulting in product sales.
EV charging speed and charging point also play a significant role as charging range varies.
DC fast charging can charge the giant EV batteries in around an hour. DC units are expensive. AC charging points are more affordable options, but a combination of AC and DC charging stations is feasible.
Attracting substantial customers
As per research, EV drivers are more affluent than the average Indian. Your EV-driving clients will spend longer at your business and potentially splurge. Once they learn your firm provides critical service, the drivers will become your repeat and potent customers.
Marketing opportunity
Make your company more visible by EV charging stations. Register on maps and be visible on google maps and other charging apps and driver apps will increase your brand value and customer footfall. Improve your business visibility and exposure by placing charging stations at your location.
You can also offer customized charging station plans and cards. By choosing the right colours, display your business as more committed to a sustainable future, attract environmentally conscious customers, and enhance the firm's image.
Earn Profit from EV Charging
EV charging is a booming industry in India. It helps a business attract new customers, gain brand loyalty, and increase the time and money spent by visitors at the business location. The simplest way electric vehicle charging can increase earnings is by setting up charging stations. 
You can set different pricing structures for your charging stations. They all depend on what you want to get from them; that is, different test strategies and finding out which one works best for business. Managing station prices, energy usage and charging management is as simple as a flip of a switch by EV charging software.
List of the best EV charging station Hardware companies in India?
The growing EV market needs efficient EV charging stations in India. The continuous growth demands more options. Here is the list of India's top EV charging station hardware providers.
ABB
Exicom
Amara raja
Servotech
Tellus Power
Teltonika
Lubi
Should you lease or Buy an EV charging station?
Don't wait for your competitors or others to snatch your business opportunity. If you are looking to electrify your facility and want to set up EV charging stations on-site now rather than later, congratulations on being the first one to be a part of a sustainability and profitable business opportunity. Be a savvy entrepreneur by adopting EV charging subsidies and benefits before running out.
Though you can save through incentives, there are other ways to avoid financial issues. Buying or owning an EV charging station is not a big deal now as the government is giving lots of benefits. Also, infrastructure companies have different plans according to the need and revenue. Partner with Yocharge and dive into the future of mobility smoothly. Become our hosting partner and enjoy other customized business models as per your need.
As per the ministry of power, you don't need a license to set up an EV charging station. Host an EV charging station at your property and start earning now. Learn about how to setup EV charging station in India.
Modernize your business- EV charging station a good business opportunity
Looking at the current EV ecosystem of India, we need more charging stations and even EV manufacturers need to work more on enhancing EV features and charging station facilities. Though it may sound daunting to install an EV charging station now, setting up a charging station could be a game-changer for your business. Complete research is needed before setting up a charging station business and for its long-run success.
Are you interested ? Will you be installing AC or DC charging points? What all services you will provide for all the details? Contact YoCharge, your one-stop solution for all your EV charging business setup needs. Schedule a call now !!