Delta, a global provider of power and thermal management solutions, has showcased its Smart EV Charging Station concept at the 2035 E-Mobility Taiwan, an event focused on promoting sustainable mobility. The demonstration aimed to show how Delta's energy-saving products and solutions, including EV powertrain and power management systems, microgrid-supported EV charging infrastructure, and powertrains for e-scooters and e-bikes, can enable smart e-mobility for sustainable cities.
Delta Demonstrates Smart EV Charging Station for Sustainable Cities at 2035 E-Mobility Taiwan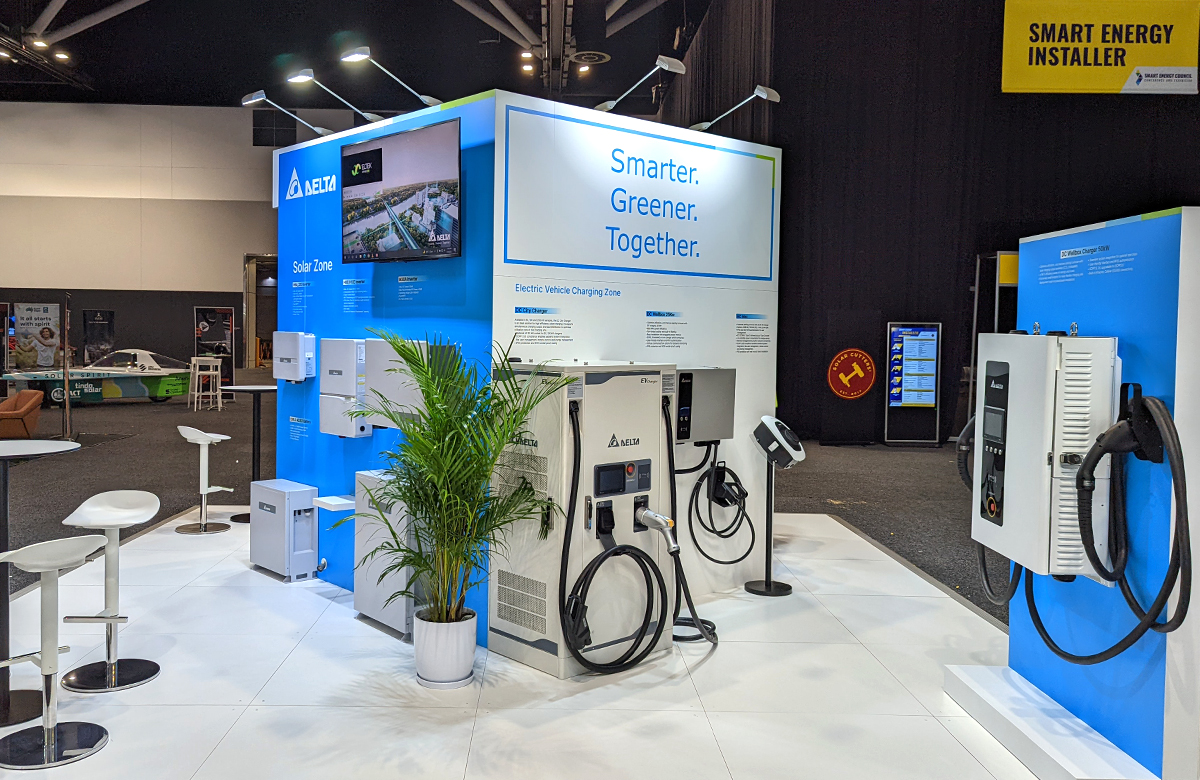 The CEO of Delta, Ping Cheng, highlighted the transport sector's impact on global energy-related CO2 emissions and emphasized the company's commitment to promoting e-mobility. Delta became the world's first EV charging solutions provider and Taiwan's first enterprise to join the global EV100 initiative in 2018. The company expects its powertrain and power management systems for EVs to contribute significantly to its growth over the next five years.
Delta's Chief Brand Officer, Shan Shan Guo, stated that the Delta Charging Hub theme showcased at the event integrates the company's new corporate identity elements while presenting a smart, eco-friendly, and convenient EV charging experience for customers. The exhibition marked the first time that Delta integrated its broad spectrum of automotive solutions, powertrains for EVs and e-scooters, and interactive showcase technology to demonstrate its IoT Smart Green Solutions' impact on fostering e-mobility. Delta's microgrid-supported EV charging infrastructure also demonstrates its commitment to nurturing smart cities for generations to come.
Delta showcased its leading EV powertrain and power management systems, which included traction motors, traction inverters, combo on-board chargers, and battery junction boxes. The company also presented the e-scooter Integrated Side-Mounted Powertrain and e-Bike Mid-Drive Motor, charging modules, and chargers for e-scooters and e-bikes. Visitors could experience Delta's powertrains that are already supporting electric multi-purpose vehicles, golf carts, three-wheelers, and other related applications.
Delta's EV Charging Solutions, including the ultra-fast 350kW DC EV Charger, the ultra-thin fast EV charger DC Wallbox 50kW, the compact AC MAX series AC EV Charger, and the EV charging infrastructure management system DeltaGrid® EVM, were also showcased at the event. These solutions enhance charging service quality and efficiency within a broad range of customer requirements and diverse infrastructure conditions.
Moreover, Delta's high-efficiency and lightweight automotive fans and thermal management solutions that support a wide range of automotive applications, such as battery management systems (BMS), autonomous driving (AD) systems, advanced driving assistance systems (ADAS), LED headlights, intelligent cockpits, vehicle, and seat HVAC, were also part of the exhibition.
The exhibition presented Delta's strong commitment to sustainable mobility and its focus on developing innovative and eco-friendly solutions for smart cities. Delta's demonstration emphasized the importance of integrating sustainable mobility with sustainable infrastructure to create a better future for all.