The chief minister of Delhi, Arvind Kejriwal inaugurated 97 electric buses from Rajghat depot-1. There are 102 electric buses operating under DTC at the moment. According to authorities, this would bring the total number of electric buses in the fleet of the Delhi Transport Corporation (DTC) to 249 electric vehicles.
Arvind Kejriwal inaugurated 97 more electric buses in Delhi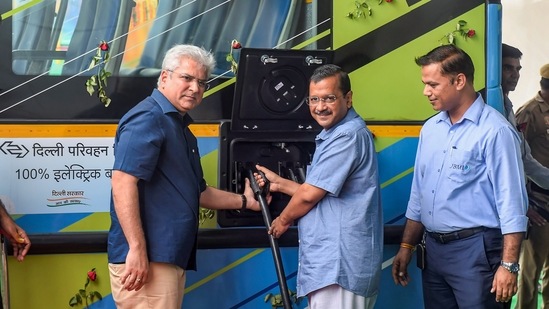 To reduce the air pollution in the state and to address emission concerns, Arvind Kejriwal inaugurated 97 electric buses from Rajghat depot. Each bus is anticipated to minimize carbon dioxide (CO2) emissions from PM 2.5 and PM 10, by 0.33 million tonnes each throughout its 10-year lifespan.
In his speech, the Delhi chief minister made a point of stating that by 2025, he intends to have 80 percent of the buses in the capital city run on electricity. By September, approximately 50 more electric buses are expected to be on Delhi's roads. Over a 1000 electric buses have been ordered, and it is anticipated that they would begin operating on Delhi's roadways by November or December of this year.
These buses are equipped with wheelchair accessibility, panic buttons, and bus kneeling with ramp features. Additionally, there are designated pink seats solely for women on the new buses. It also have a fire detection and suppression system for fire safety and to safeguard passengers from any type of fire incident, as well as live video streaming for emergency situations.
About 150 e-buses and three e-bus depots at Mundela Kalan, Rohini Sector-37, and Rajghat Depot were previously flagged off by Kejriwal in May. With the addition of these e-buses, Delhi's fleet will have a total of 7,300 buses. Currently, 3033 of DTC's 3670 buses are used for Cluster services.
Switch Mobility Launches 'Made In India' Electric Double-Decker Bus

Read article
Rajghat-1 Depot of DTC will acquire a CNG manufacturing facility
Indraprastha Gas Limited (IGL) and Indian Oil Corporation Limited (IOCL) began construction on a Hydrogen CNG (HCNG) production plant at DTC's Rajghat-1 depot. The chairman of EPCA, while laying the foundation of four-tons per day made a statement that the he was confident enough that the project would flourish across the country.
Combining hydrogen and CNG could be a way to reduce emissions while also ensuring the nation's energy security. A semi-commercial facility was built by IOCL and IGL in accordance with a Supreme Court order in order to undertake a research on the usage of HCNG fuel in 50 BS IV compliant CNG buses in Delhi.
When utilized in an engine instead of CNG, hydrogen-spiked CNG produces clean combustion, reducing hazardous pollutants and improving fuel efficiency. This new technology could be a solution to the air pollution caused by the increased number of vehicles.