Before we get down to the brass tacks on the cost of setting up EV charging stations in India, Let me first give you a clear picture of the EV charging industry. Understanding the market before you decide on investing is crucial as it will help determine where and how profitable your investment in the business will be.
According to recent reports published by Globe Newswire, the global EV charging station market size will be worth 420 Billion USD by 2030 at a 32% CAGR. During 2021, the EV charging station market and share revenue were evaluated to be worth 35 Billion USD. This year the EV charging station market is expected to reach 77.78 Billion USD.
Furthermore, the 'Custom Market Insights' market research broadcast states that the demand analysis of the Global Electric Bus Charging Station Market size & share revenue was estimated to be worth about USD 2.2 Billion in 2021. People in the EV industry are looking forward to reaching a value of 17.3 Billion USD by 2022. They are also expecting it to be worth close to USD 19.5 Billion by 2030, at a CAGR of 31.5% between 2022 and 2030.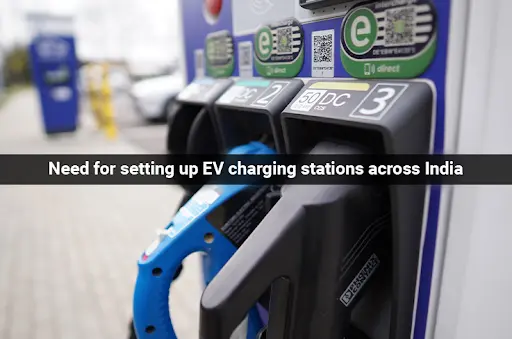 Need for setting up EV charging stations across India
EV sales are boosting in all the metropolitan cities of Delhi, Mumbai, Bangalore and Chennai. India has recorded sales of over 4.3 lakhs EVs by the 9th of December, 2022. Statistics compared between 2021 and 2022 depict that a total number of 3.2 lakh EVs were sold in the previous year, and this year, the sales have crossed ten lakh EVs. Therefore, skyrocketing its growth to 200% in the market.
The latest news reports talk about how Tata Motors has broken its record of selling 50,000 electric four-wheelers in the end of 2022. Additionally, Tata Tiago has come to the limelight with its sales record by obtaining more than 20,000 bookings within the first six weeks of its launch.
The sudden surge in EV sales has caused EV drivers to range anxiety as there aren't sufficient charging points for them to utilise in case the vehicle runs out of energy. With over 200% growth in the electric vehicle market, India has only approximately 2000-3000 EV charging stations across the country. Our country is short of EV charging stations and is in need of at least 2.30 lakh charging stations. According to the latest news, India requires an investment of Rs 296 crores to install EV charging station in India within the next five years and an investment of Rs 1.05 lakh crores by 2032, with an annual growth of 39% CAGR. Hence, the demand for EV charging stations is high, and since the supply is low, the indian government has also come up with measures to promote EV charging stations across the country.
Government's role in promoting EV charging stations across India:
The Government of India has stated that all cities must have at least one EV charging station installed at a distance of every 3 km and at least two at a distance of 25 km, one on each side of the road. To promote electric vehicle charging station installations, the government has de-licensed the process of installing and running them.
However, the government will sanction permits provided that the requirements meet the guidelines. Besides this, they have also launched impressive state-wise subsidies and allow all commercial and private spaces to invest in EV charging business.
Necessary Infrastructure for EV Charging Stations:
A perfect and permanent EV charging station requires a transformer, subsequent substation, and all the safety measures. A 33/11KV cable and supporting equipment should be supplied for termination or metering.
Next, sufficient civil works must occur, and there should be enough room for electric vehicles to charge. All these require local certification for authentication. However, this rule varies from state to state.
Cost of setting up the EV charging stations in India
The following table represents the estimated cost of setting up EV charging stations in India according to the charger type. This costing data would help you select the kind of charging station you can opt for depending upon your requirements.
| | | | | |
| --- | --- | --- | --- | --- |
| Charger Type | AC 2 wheeler | AC 4 wheeler | 30KW | CCS-60kW |
| Charger Cost | Rs 15000 | Rs 75000 | Rs 6,00,000 | Rs 10,50,000 |
| New Electricity Connection | NA | NA | Rs 250,000 | Rs 5,00,000 |
| Civil Charges | Rs 5000 | Rs 5000 | Rs 50,000 | Rs 50,000 |
| EVSE management software + Integration charges | Rs 4000 | Rs 4000 | Rs 40,000 | Rs 40,000 |
| Technician + manpower + maintenance costs per year | Rs 3600 | Rs 3600 | Rs 36,000 | Rs 36,000 |
| Advertisements and Promotions | Depends if the owner is interested or not | Depends if the owner is interested or not | Depends if the owner is interested or not | Depends if the owner is interested or not. |
| Land lease charges yearly | – | – | Rs 120,000 | Rs 120,000 |
| Total Cost | Rs 27600 | Rs 87600 | Rs 1,096,000 | Rs 1,796,000 |
Why choose YoCharge for setting up EV charging stations?
YoCharge takes care of all your EV charging hassles. While yocharge has its proprietary EV Charging Management Software, its installation partners enable turnkey solutions. Our professionals will take care of the entire process on your behalf, from designing blueprints to setting up the equipment and installing the charging station with EV CMS.
Our consultants would be assisting you and guide you through the entire process. All your queries would be answered, and our customer support would be at your service 24×7.