Mobile apps have taken over the software market like a storm. People have started surfing mobile apps more rather than web applications. A report published on grandviewresearch.com publicized that the global mobile application market size was worth USD 206.85 billion in the year 2022 and is forecasted to grow at a CAGR of 13.8% between 2023-2030. The recent trends have been seeing a surge in EV charging apps, as the EV charging industry in India has been growing at a rapid speed. Like all retail and commercial businesses, EV charging enterprises have now been opting for web and mobile applications, ensuring that customers have convenient access to the business's products and services at all times.
Why Invest in EV Charging Apps?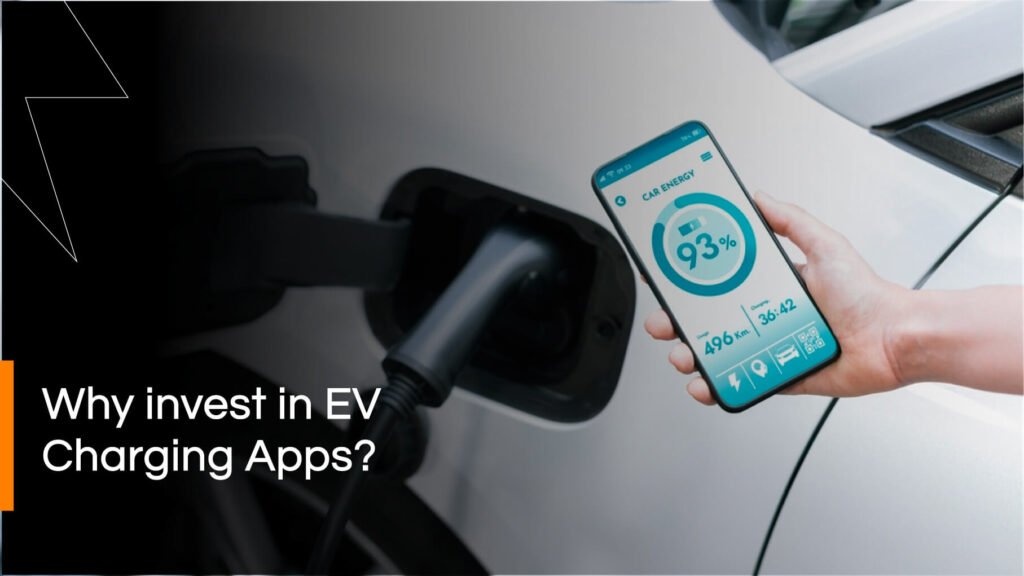 The rise in sales of EVs through aggressive promotion by the government and environmentalists to achieve the Net Zero Emission goal has opened a gateway to the growth in the EV charging infrastructure. Therefore, EV charging apps play a crucial role in connecting EV owners with available charging stations, making them a valuable part of the EV ecosystem.
Digitaljournal.com reported last month that the EV charging software market size was worth USD 1.2 billion in 2022 and is expected to grow at a CAGR of 5.1% to USD 25.8 billion by 2028 during the forecast period. Fortune Business Insights published a report on globenewswire.com to give a more comprehensive picture. It asserted that the global electric vehicle charging station market size is expected to reach USD 111.90 billion by 2028 from its value of USD 17.59 billion in 2021, at a CAGR of 30.26% during the forecast period. Now you see how fast the EV charging market is growing?! This is a good enough reason to at least consider getting into the EV charging business. If you have made up your mind about starting your EV charging company, then let's discuss further why it's a good idea to invest in EV charging mobile apps:
Convenience and User Experience:
Electric vehicle charging apps make it convenient for EV owners to access real-time information about nearby charging stations, availability, and pricing. The app users can quickly locate, pre-book, and pay for charging sessions through the app, therefore, streamlining the charging process.
Increasing Charging Infrastructure:
As discussed earlier, governments, businesses, and utilities are investing heavily in expanding EV charging infrastructure to support the growing demand. The growth of the charging network has enhanced the EV charging mobile apps to become even more valuable for EV owners. Investing in apps that integrate with a vast network of charging stations can position you to benefit from this infrastructure expansion.
Monetization Opportunities:
Your EV charging business can generate revenue through charging session fees, subscription models, or partnerships with charging networks and station operators. What's more, EV charging mobile apps can also provide value-added services such as loyalty programs, creating additional revenue streams.
Data Analytics:
EV charging mobile apps collect valuable data on charging patterns, user behaviour, and energy consumption. This data helps gain insights into charging infrastructure utilization, optimizing charging station placement, and supporting energy management strategies. Investing in EV charging apps can be valuable for research, planning, and future business opportunities.
Features of EV Charging Mobile Apps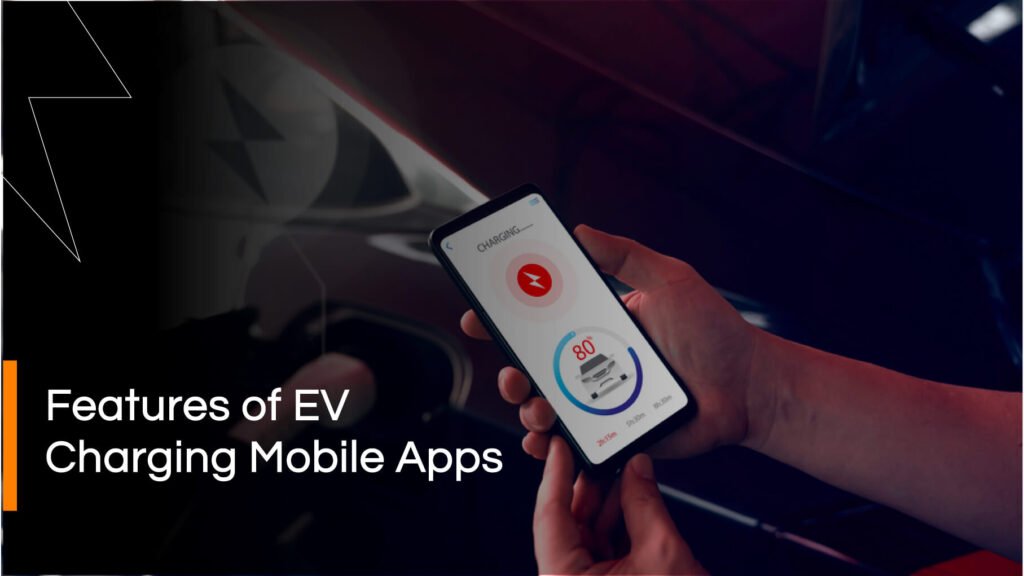 There are several features in the mobile application for EV charging:
Locate Charging Stations:
The mobile app provides a GPS-based interface that allows EV users to locate the nearest charging stations. Users can view information such as station types, types of connectors, list of EV's they are compatible with, availability of slots, charging speeds, and pricing.
Real-time Status:
EV Users can monitor their charging process in real-time and remotely. They can keep track of all their view on the maps for the availability and location of the charging station instantly.
Reservation and Pre-Booking:
Some EV charging mobile apps allow EV owners to reserve a slot for themselves in the charging stations in advance. This feature works best for charging stations that are located in areas of high footfalls.
Charging Session:
The charging sessions can be switched on and off directly through the tap of your finger on the app. This feature enhances user convenience and eliminates the need for physical access cards like RFID or tokens.
Payment Integration:
By investing in a mobile app for your EV charging business, you can provide your customers with multiple payment options like credit or debit cards, net banking, and mobile payment apps (Gpay, Paytm, etc.).
Charging Session Monitoring:
You and your customers can monitor ongoing charging sessions, including the charging rate, the time elapsed, and the estimated time to complete the charge. This feature makes it convenient for EV drivers to plan their charging activity accordingly.
Notifications and Alerts:
Like all the other mobile apps, an EV charging app would send notifications and alerts to your customers, updating them on charging status, session completion, or any issues with the charging station equipment.
User Reviews and Ratings:
Providing customers with the option to leave reviews and ratings based on their experience in your charging stations would help other EV owners make informed decisions and encourage the charge point operators (CPO) to maintain and improve their services.
Energy Consumption and Cost Tracking:
Providing insights into energy consumption and costs for each charging session makes it convenient for EV users to monitor their charging expenses and optimize their charging behavior.
Rewards and Loyalty Programs:
To incentivize user engagement, some apps offer rewards or loyalty programs. Users can earn points, discounts, or other benefits by using specific charging stations or achieving certain milestones.
Integration with Navigation Apps:
Integrating your mobile app with popular navigation apps would help potential customers to seamlessly plan their routes, considering charging stops along the way. This ensures a smooth travel experience, especially during long trips.
Things to consider before developing an EV Charging Mobile App
Target audience:
This is the primary thing one must consider when starting a new business. Always ask yourself these questions- Who are you building the app for? Are you targeting EV owners?, or companies with EV charging stations? Or both? Once these questions have been answered, you can move on to considering the other important things.
Features:
Do a little R&D, but before doing that answer these questions- What features will your app have? Will it allow users to find charging stations, book charging sessions, pay for charging, or track their charging history? If these questions are straightforward, you should check out your competitor's mobile apps to see what features they have provided. This will help you decide on what you can do differently and better.
Platforms:
Will your app be available on iOS?, or on Android? or on both mobile platforms? It usually is better if your mobile app users can run your EV charging app on both platforms, but if you are low on budget, you can consider either one of the platforms until you generate enough revenue to pay for the other one.
Technology:
Once you have decided on the iOS platform, it's time to consider what technology you will be using to build the app. Your options include a native app development framework, a cross-platform framework, or a web application.
Budget:
Find out the costs of putting together the platform, technology, and features, and work out a budget that would work best for you.
Timeline:
How soon do you want the app to be developed? Developing a brand-new mobile app can take months and sometimes cost you a fortune. If you are looking for a more cost-effective and faster option, then YoCharge EV Charging Software Providers can help you. You can avail of our white label EV charging software services as we specialize in branding the software and launching the EV charging platform within just seven days! This works out much better than developing a new application from scratch.
User experience:
A lot of customers feel disrespected when the apps do not function properly. Hence, the user experience is essential for any mobile app. Your mobile app users should be able to find charging stations easily and quickly and book charging sessions without any hassle.
Summing Up!
Hopefully, this blog has given your clear insights into what, why, and how the EV charging apps are impacting the convenience and accessibility of EV users. If you want to start an EV charging business or want to learn more about our services, contact us at +91-9462878912 or Whatsapp!