Through the major areas of Kolkata, Snap-E intends to operate a fleet of 700 electric cabs and install 150 DC and 700 AC charging stations. On October 14, Kolkala Mayor Firhad Hakim, who is also the Minister-in-Charge of the Urban Development & Municipal Affairs Department, officially signed off the first set of 700 Snap-E electric taxis for commercial service in and around Kolkata.
Snap-E to operate with a fleet of 700 electric cabs in and around Kolkata
EC Wheels India Private Ltd., which debuted an all-electric on-demand cab service under the brand Snap-E, plans to run a fleet of 5,000 electric cars in east India. Additionally, it would install EV charging infrastructure all over the region. Snap-E intends to run a fleet of 700 electric taxis and install 150 DC and 700 AC charging stations in and around Kolkata as part of the project's initial experimental phase. On Friday, the first batch of 100 Snap-E electric cabs for use in the city and around the regions of Kolkata was flagged off.
EC Wheels intends to add 500 vehicles in the following phase, followed by 3,800 more in the phase after that. According to Mayank Bindal, CEO of EC Wheels, this will be supported by a comparable number of charging stations, he said during a press conference on Friday. He also added that in order to promote widespread usage of environmentally friendly electric vehicles and to achieve a long-term reduction in carbon footprint, EV charging infrastructure would be installed.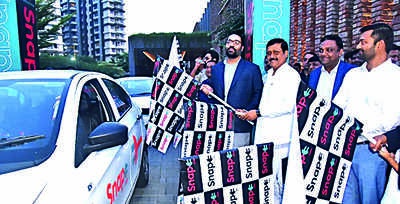 The deployment in Kolkata would be followed by a phased debut in other significant eastern Indian cities. Adequate measures will be put in place to make make sure that Snap-E customers do not encounter the typical service problems encountered using other taxi services. Bindal said that in addition to providing executive class electric cars, it would also make sure that the drivers received training in expertise and politeness.
He added "We also acknowledge that concern for the environment should not overlook the impact on customers' pockets. With zero surge pricing model, and flat rates between popular pick-up and drop-off locations, we can safely expect Snap-E to save at least 15-20 per cent on the commuters' fare."
According to recent study results, the difficulty in finding charging stations has been one of the main barriers for car purchasers to choose electric vehicles. Snap-E will make its charging stations available at a reasonable cost to address this problem even for private vehicle owners. Customers could book the electric cab using a user-friendly mobile application installed in their mobile phones.
EC Wheels has already signed an MOU with Tata Motors to ensure continuous delivery of electric vehicles. Tata Motors, who has already provided 100 electric cabs through September 2022 and will continue to provide at least 100 electric cabs each month subsequently. The project is expected to cost more than 2,000 crores in total, and at least 15,000 job opportunities are guaranteed.