The Indian EV charging market is multiplying, with a volume of approximately 1.05 million units in 2022 and expected to reach 3.86 million units by 2028, at a CAGR of 22.20%. The Indian electric vehicle charging stations market is also expected to grow with a CAGR of around 25% during the forecast period. To promote faster adoption of the EV industry, the Indian government is also focusing on investing in charging infrastructure as a top priority.
Start an EV charging business can be lucrative due to the growing demand for EVs. Before starting the business, it is essential to consider the target market, location, type of charging station, and cost of installation and maintenance.
Things to Consider to Start an EV Charging Business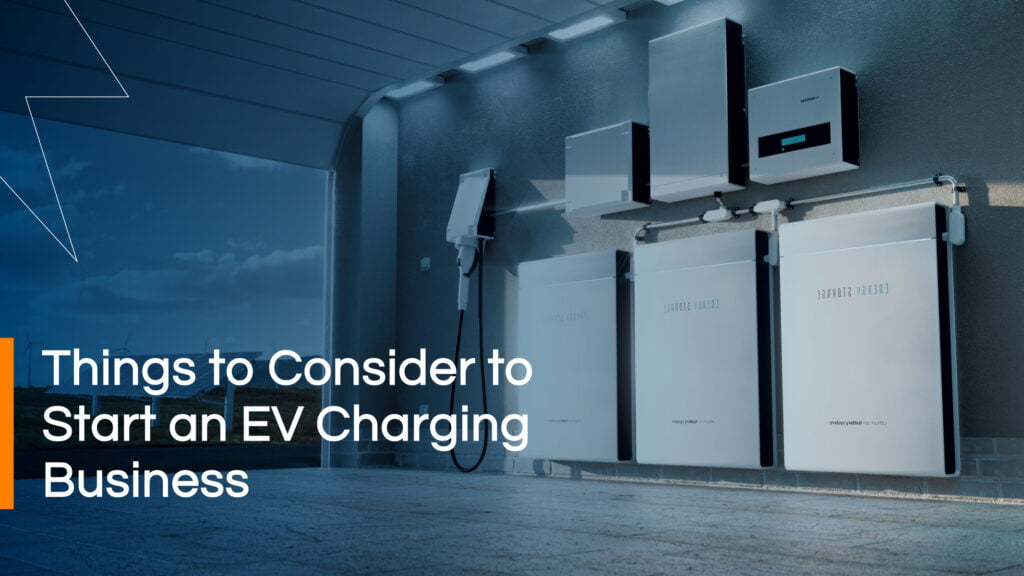 Before starting an EV charging business, there are several things to consider.
Identifying Target Market
Identifying the target market and location for the charging stations is important. This can be done by researching the number of EVs in the area, the availability of charging stations, and the proximity to popular destinations such as shopping centres, restaurants, and tourist attractions.
Considering The Type Of Charging Station To Install
Choosing the type of charger and charging station for your business is crucial, depending upon the location of the property it will be installed. Three types of charging stations are Level 1, Level 2, and DC fast charging.
Level 1 charging stations use a standard 120-volt outlet and can take up to 12 hours to fully charge an EV.
Level 2 charging stations use a 240-volt outlet and can take up to 8 hours to fully charge an EV.
DC fast charging stations use a 480-volt outlet and can charge an EV up to 80% in 30 minutes. The type of charging station to install will depend on the target market and location.
Cost Of Installation & Maintenance
The installation costs depend on the type of charging station, the number of charging stations, and the location. Maintenance costs will include electricity costs, repair costs, and software costs. Hence, it is important to jot down all the costs and ensure they fit your budget. Read More
Selecting The Right EV Charging Software
The EV Charging Software, or the EVCMS, is responsible for managing the charging stations, monitoring usage, and processing payments. It is vital to select software that is user-friendly, reliable, and secure.
Benefits Of Choosing The Right EVCMS
EV Charging Management Software (EVCMS) offers several benefits to businesses operating EV charging stations:
Businesses can monitor the status of their charging stations and manage the operations of the charging stations
It provides real-time information to optimise operations and analyse business and technical data for better decision-making.
The automated charging processes make it easier to manage and track electric vehicle charging.
It optimises energy usage and costs, which can help businesses save money on electricity bills.
EV users receive a better charging experience which can help businesses attract more customers.
Businesses can take complete control of charge points, which can help prevent overloading the grid.
The charging data collected can help businesses improve their operations and increase revenue.
Why Choose YoCharge EV Charging Software?
YoCharge is a leading provider of EV charging software solutions. We offer two types of EVCMS – White Label EVCMS and YoCharge EVCMS.
White Label EV Charging Software is a customisable EV charging software solution allowing businesses to brand the software with their logo and colours. This is an excellent option for businesses looking to create a unique brand identity.
YoCharge EVCMS is a ready-to-use software solution or a platform that is designed for businesses that want to get up and running quickly. It is user-friendly, reliable, and secure. The businesses that avail of this software platform will be reflected under YoCharge Brand on the maps.
Start An EV Charging Business? How YoCharge Can Help You
YoCharge can help businesses build their EV charging business by providing a complete software solution. Our software is designed to manage charging stations, monitor usage, and process payments. This allows businesses to focus on other aspects of their business, such as marketing and customer service.
Read More – Benefits of Using EV Charging Management Software
YoCharge also offers a range of features that can help businesses increase revenue. For example, we offer dynamic pricing, which allows companies to adjust the charging price based on demand. We also provide a 'Scan, Pay & Charge' feature for mobile app users using a unique QR Code. If you wish to learn more about our EV charging software features,or are interested to start an EV Charging Business of your own you can call us on +91-9462878912