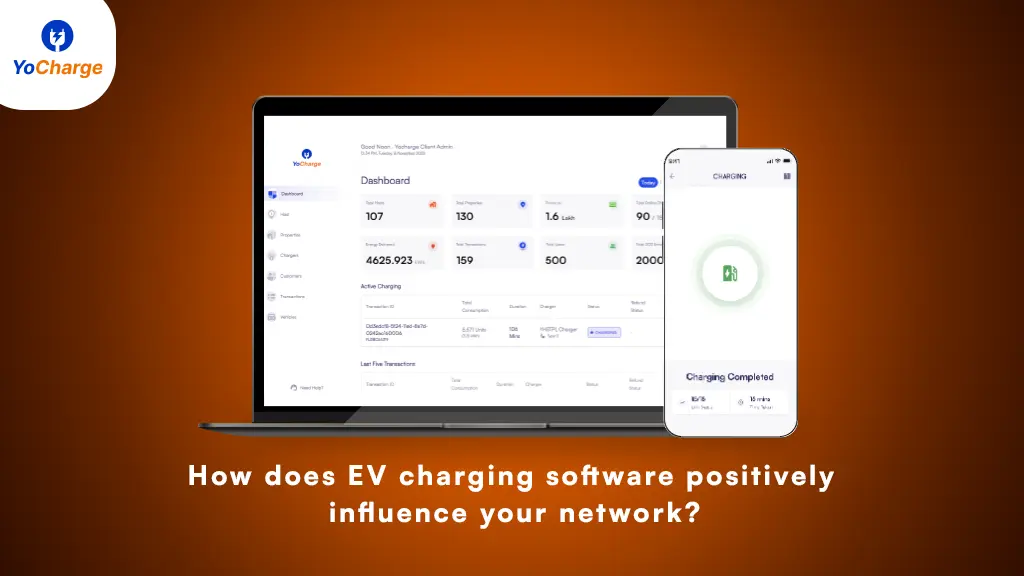 How Does EV Charging Software Positively Influence your Network ? The EV industry boom has brought with it the demand and scarcity of EV charging stations. Governing bodies across the globe have been trying to promote and establish EV charging businesses across the nations to ensure that electric vehicle drivers do not feel any range anxiety. In India, the government has introduced state-wise subsidies and declared that installing EV charging stations is a delicensed activity.
According to government guidelines, interested businesses should install at least one electric vehicle charging station every 3km distance within the cities, and highways should have at least two installed at 100km each. EV Charging Software allows any individual to open & run EV Charging Station business seamlessly.
How Does EV Charging Software Positively Influence your Network ?
Saves time & cost
EV Charging software allows you to manage multiple charging stations simultaneously from one single point. You can check status of all the charging station in your network from your dashboard. This saves you time & resultant costs.
Real-time Network Monitoring
The charging station management software also enables real-time monitoring of the complete charging network. This allows you to be completed updated on the business, guaranting better return on your investment (ROI).
Better Troubleshooting
As the charging stations are continuously monitored so you are updated instantaneously in case of any fault or hardware malfunction. This allows you to identify issues faster and resolve them sooner.
Integration with 3rd Party Applications
Integration with 3rd party application allows sharing crucial information like payment, billing with your other services providers which not only increase the convenience but also enables better
Better Visibility
With the help of EV CSMS, the location of your EV charging station will automatically show up on the maps of EV drivers in the vicinity looking to charge their vehicles. This visibility is one of the significant reasons that will help you attract electric vehicle drivers, build a network of loyal and frequent customers, and generate extra income regularly.
The installation of EV charging stations at strategic locations where businesses like hotels, restaurants, malls, supermarkets and workplaces attract potential customers, boosts the brand image and increases revenues.
Specialised Charging Station Management Software Services at YoCharge
We specialise in providing seamless end-to-end EV charging solutions to our clients and customers. Our 'EV CSMS as a Service' is based mainly on OCPP (Open Charge Point Protocol) as it is globally preferred.
This service follows the 'Pay-per-Charger/Connector' concept, which opens potential business opportunities for business owners in the field of
On a final note
Charging Station Management Software uses enhanced algorithms that help the user receive a dependable and efficient charging experience. CSMS features such as operations, security, accounting and billing improve user satisfaction and improve EV user experience on your network. Further, this EVCMS is usually provided on basis of monthly subscription fees or commissions to enable you to use the EV Charging Software positive Influence your Network without any financial stress.