Tata Nexon EV was launched on January 28, 2022. Because of its performance and aesthetics, Nexon EV is preferred. In India, the Tata Nexon EV costs begins from 14.99 lakh rupees. Colors such as teal blue, moonlit silver, glacier white, and black (Dark Edition) are offered for the Nexon EV. Five individuals can be accommodated in a Nexon EV. The Nexon EV has obtained five-star safety ratings from the Global NCAP.
India's most affordable electric SUV, the Tata Nexon, has a powerful drivetrain. It comes with a battery capacity of 30.2 kWh and generates 170Nm of torque and 74bhp of power. An electric sunroof, automatic climate control, a height-adjustable driver seat, a flat-bottom steering wheel, etc. are among the features found within the Tata Nexon EV.
Tata NEXON charging options
When the Tata Nexon EV is regularly charged at home or at the workplace using any 15 A plug point, the CCS 2 connector, which is provided with the car, extends the vehicle's range by approximately 35 km per hour. Tata Nexon EV can be conveniently charged at the owner's home itself. The car may be fully recharged using this approach in around 8 hours, going from having no charge to 90%. The Tata Nexon also has a fast charging option that may increase the range by about 156 kilometers in just 30 minutes.
For rapid charging, the time needed to charge from 20% to 80% is shown because, in order to protect the battery, charging slows down substantially outside of this range. The charging specifications of Tata Nexon is shown below :
Charging options
| Method of charging | Type | Charging time | Range/hour |
| --- | --- | --- | --- |
| 3.2 kW | On-board charger | 10 hours | 21.6 km/h |
| 7.2 kW | Public places or work locations | 4 hours | 54 km/h |
| 30 kW | Public charging locations | 60 mins | 216 km/h |
Estimated charging times change based on the surrounding temperature, the battery's state (empty or half full), and the rate of charging. The rate of charging could be restricted by the car.
The number of kilometers you may expect to travel after an hour of charging is called the range per hour in this data.
Range
The Nexon EV Max claims to have a driving range of up to 437KM on a single charge, compared to the basic Nexon EV's ARAI-certified range of 312KM. The Nexon EV Max now features a 40.5kWh battery pack instead than the 30.2kWh of the basic version because Tata Motors fit a 33% larger battery pack inside Nexon EV Max.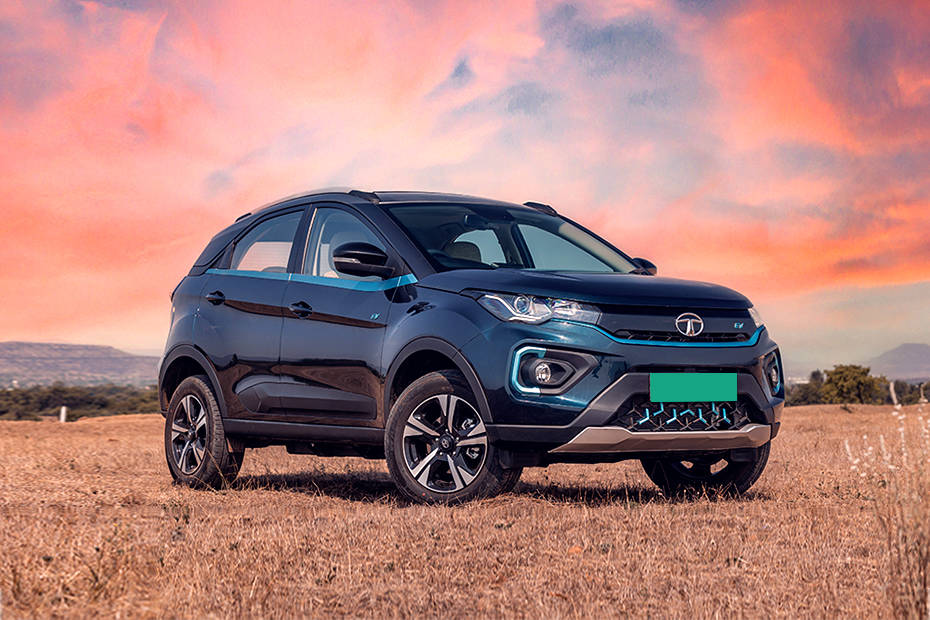 Tata NEXON variant prices:
| | | |
| --- | --- | --- |
| Battery Pack | Variant | Ex-showroom price (in Lakhs) |
| 30.2 KWh | XM | Rs. 14.99 |
| 30.2 KWh | XZ + | Rs. 16.30 |
| 30.2 KWh | XZ+ Dark | Rs. 16.49 |
| 30.2 KWh | XZ+ LUX | Rs. 17.30 |
| 30.2 KWh | XZ+ LUX Dark | Rs. 17.50 |
Note : Please confirm price before purchase. The price in the above data may vary due to some external factors.