Electric vehicle production in North America is slowly meeting demand, with established automakers like Ford and General Motors increasing their focus on electrification. According to Bloomberg Intelligence, fully electric vehicles accounted for 7% of North American car production in December 2022. With 26% of U.S. drivers intending to buy an EV, the industry is poised for growth.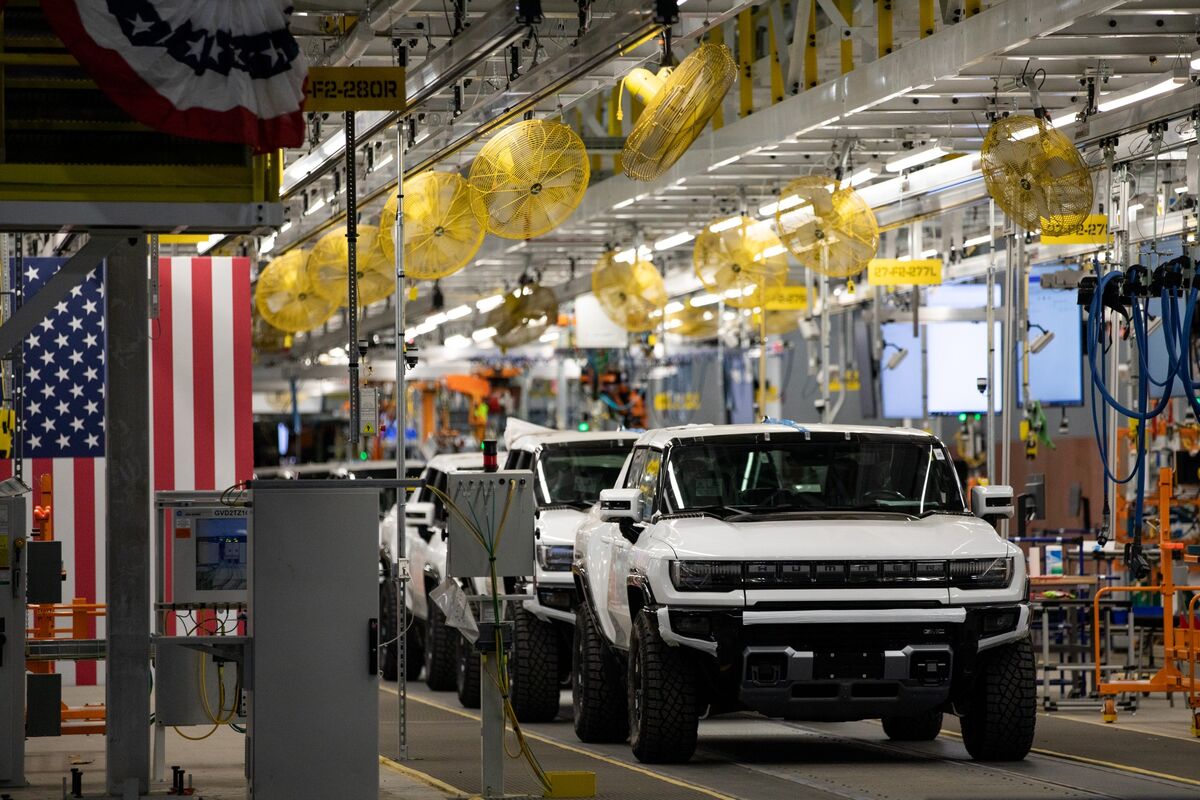 EV Production in North America Slowly Catches Up to Demand
Automakers are increasingly emphasizing electrification in the race for market share. In December 2022, electric vehicles (EVs) accounted for 7% of North America's car production, an increase from 4.7% in December 2021, and up from 4% for the first half of 2022, according to data compiled by Bloomberg Intelligence. The long-time EV front-runner, Tesla, led the pack with 52,300 vehicles produced in December, followed by Ford with an estimated 9,300 electric cars, trucks and vans.
Ford plans to ramp up its factories to produce 600,000 electric vehicles annually by the end of 2023, a six-fold increase over its output in 2022. The automaker aims to push that pace to 2 million units by the end of 2026. General Motors is spooling up production of its GMC Hummer, Cadillac Lyriq and Chevrolet Blazer, due out this summer, and aims to pass Ford and become the runner-up to Tesla on EV manufacturing volume. Lucid, a newcomer, plans to make between 10,000 and 14,000 vehicles this year, while Rivian, another newcomer, aims to produce 50,000 vehicles this year.
Volkswagen's factory in Chattanooga, Tennessee, went fully electric last year and made 25 of Volkswagen's ID.4 electric SUV in July, the first U.S. production of the automaker's first mass-market EV. By December, the factory was producing 100 ID.4s every day. Volkswagen has plans to produce another 200,000 EVs annually at a new plant in South Carolina that will open in 2026.
While American EV demand remains hard to pin down, it is likely far higher than supply. Approximately 26% of U.S. drivers say they intend to buy an EV, according to the American Automobile Association. That is the precise share of new car sales in the U.S. that could be fully electric by the end of 2025, if there are enough EVs to purchase.
The growth in the mass market for EVs is tremendous, says Elizabeth Krear, vice president of the EV practice at J.D. Power. A J.D. Power survey conducted in October found that more EV customers were considering a Chevy than a Tesla. Tesla regained its bragging rights after cutting prices in January.
The year-end EV blitz suggests supply is gradually closing the gap with demand, and buying an EV is likely to be less challenging for Americans in the coming months. However, U.S. EV production is still very much in first gear, and demand for EVs is expected to increase rapidly in the next few years. Automakers are investing heavily in EV production to meet the demand and gain market share.