Electric vehicles are gradually gaining popularity. Costs are probably going to decrease considerably more if EVs are produced on a large scale. Sales of electric vehicles reached 3,419 units in September 2022, up 5.62% month-over-month and 172% year-over-year. Let us discuss about the top 10 electric cars in sales till Sep 2022.
Top 10 Electric Cars in Sales September 2022
Tata is still India's top-selling PV EV brand. Tata Motors has expanded its 4W EV portfolio with the release of the Tiago EV. Tata Motors is leading the 4W EV revolution in the nation with an 82.80% market share. The combined sales of 2,831 units for Nexon EV Prime, Nexon EV Max, and Tigor EV showed positive growth of 217.02% YoY and 2.39% MoM. These gains contrast with the 893 and 2,765 units sold in September 2021 and August 2022, respectively.
Tata saw a volume gain of 1,938 units YoY and 66 units MoM. Tata's 4W EV sales are anticipated to reach new heights and carry the segment with them once Tiago EV deliveries begin in 2023. The second-place finisher is MG ZS EV. It sold 280 units last month compared to 327 units the month before, reflecting a 14.37% YoY and 11.39% MoM decline. The MG ZS EV's market share is 9.76%.
Surprisingly, Mahindra eVerito sales are robust, as shown by the 112 units sold last month, which is a significant increase over the 19 units sold at this time last year and the 17 units sold the month earlier. eVerito saw increase of 558.82% MoM and 489.47% YoY. Market share increased from 0.53% to 3.28% in August 2022.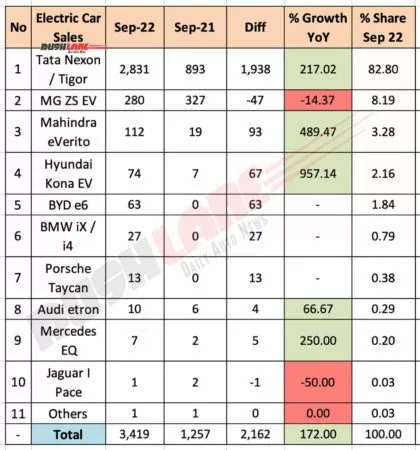 With 74 units sold in September 2022, the Hyundai Kona EV is in fourth place, surpassing its September 2021 sales of just 7 units and August 2022 sales of 73 units. Kona EV increased by 957.14% YoY with 67 units and by 1.37% MoM with one additional unit sold. There appears to be a small increase in sales now that the BYD e6 is offered as both a PV and CV. BYD e6 sold 45 units in August 2022 after failing to sell a single one the previous year. However, last month's sales were 63 units, giving a 40% MoM increase.
Luxury 4W EV Sales
Similar to how EVs are becoming more and more popular in mainstream segments, premium 4W EVs are also occasionally emerging. BMW has been able to outsell its competitors in these. With the iX and i4 at its service, BMW was able to sell 27 cars, representing an 8% MoM increase over the 25 units sold the month earlier.
13 Porsche Taycans were sold, representing an 85.71% MoM increase over the 7 cars sold in August 2022. In the same time frame, Audi was able to sell 10 e-tron vehicles. Audi sold 6 units in September 2021 and 14 units in August 2022, for a growth of 66.67% YoY and a decrease of 28.57% MoM, respectively.
Although it may not have outsold its German rivals, Mercedes-Benz is entirely profitable in comparison. With 7 units sold, the three-pointed star increased by 5 units and saw a 250% YoY increase over just 2 units it sold the previous year. Gaining 3 units, the company reports a 75% MoM increase over the 4 units sold in August 2022.
Jaguar was only able to sell 1 I-Pace, a 50% YoY loss when it sold only 2 units the previous year. There are others who only make up one unit. Sales of electric vehicles increased by 172% YoY and 5.62% MoM in September 2022 to a total of 3,412 units. Gains in volume were 2,162 units YoY and 182 units MoM.