Bharat Petroleum Corporation Limited (BPCL) has launched 12 electric vehicle (EV) fast chargers on the Delhi-Jalandhar highway as part of its plan to install 7,000 charging stations across the country over the next five years. The CCS-2 fast chargers, starting with 30 kW, have been installed at 12 BPCL fuel stations on the 750 km long Delhi-Jalandhar-Delhi National Highway. These stations are strategically located every 100 km on both sides of the highway to address the range anxiety of EV owners.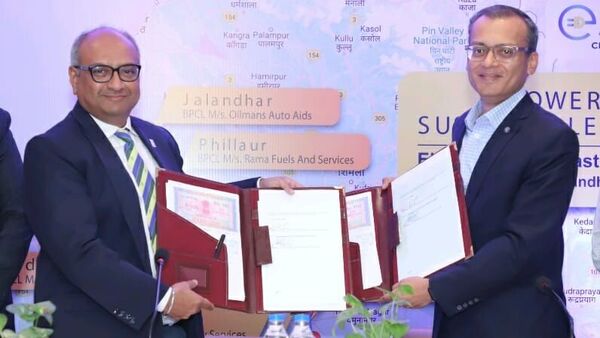 BPCL Launches To Install 7,000 Chargers In 5 Years
This initiative is part of BPCL's efforts to develop EV fast-charging corridors across India, with the Chennai-Trichy-Madurai, Chennai-Bangalore, and Bangalore-Coorg corridors already operational. The BPCL charging stations aim to provide long-distance and inter-city travellers with safe, well-lit, and secure pit stops equipped with amenities like clean and hygienic washrooms, ATMs, and more while their EVs are being charged.
BPCL's EV fast chargers can recharge an EV in just 30 minutes, giving it a driving range of up to 125 kilometers, after which another BPCL charging station will be available for EV owners. These charging stations are self-operated and require no manual assistance, although support staff are on hand when needed.
BPCL has also digitized its entire EV charger locator, charger operations, and transaction process through the HelloBPCL app, providing an online hassle-free and transparent user experience.
With a focus on sustainable solutions, BPCL aims to become a Net Zero Energy Company by 2040, reducing its Scope 1 and Scope 2 emissions. The company has been partnering with communities by supporting initiatives related to education, water conservation, skill development, health, community development, capacity building, and employee volunteering.
The launch of the 12 EV fast chargers on the Delhi-Jalandhar highway is a significant milestone for BPCL, as it works towards its goal of developing a vibrant ecosystem to support India's transition to sustainable transportation. The installation of these charging stations is a step in the right direction to address the range anxiety of EV owners and encourage the adoption of EVs in India.
Moreover, BPCL's initiative to convert its 7,000 conventional retail outlets into energy stations, providing multiple fueling options, is commendable. It will help create a comprehensive charging infrastructure, enabling EV owners to travel long distances without worrying about range anxiety.
In conclusion, BPCL's launch of 12 EV fast chargers on the Delhi-Jalandhar highway is a positive step towards achieving a sustainable future for India's transportation sector. The company's efforts to create a vibrant ecosystem and become a Net Zero Energy Company by 2040 are admirable and should inspire other organizations to take similar steps towards sustainability. With initiatives like this, India can continue to move forward in its journey towards a cleaner, greener future.